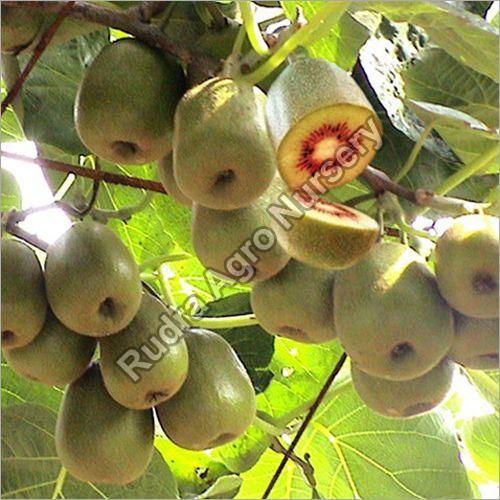 Red kiwis are small fruits that have an oval to ovate shape with a distinct dent on the bottom of the fruit, a distinguishing factor between this speciality variety and other kiwi cultivars. The kiwi's surface is smooth and velvety, containing less fuzz than green kiwis, and has a fine, thin nature. In this article, you get every piece of information about the red kiwi plant so please keep reading.
Climate Needed to Grow Red Kiwi
Red Kiwi Plant can be grown in areas experiencing 700-800 chilling hours (no. of hours throughout which temperature last at or below 70 C during the winter season). The red kiwi plant can grow up to 800-1500 m. above m.s.l. Rainfall of about 150 cm. /year is sufficient.
Where is Kiwi Best Grown
New Zealand provides the perfect conditions for growing kiwifruit: enough sunshine, lots of rain, and extremely fertile soil. The growing season for kiwifruit is lengthy — up to 240 days a year — so kiwifruit from New Zealand is accessible from May to October.
Nutrition Level in Red Kiwi Fruit
Red Kiwi Fruit is high in Vitamin C and dietary fibre and provides a variety of health benefits. This tart fruit can bear heart health, digestive health, and immunity. The kiwi is a healthy option of fruit and is rich in vitamins and antioxidants. Its tart flavour, pleasing texture, and low-calorie count make it a delicious and healthy option for snacking, sides, or a unique dessert.
Health Benefits of Red Kiwi
The vitamins, fiber, and antioxidants can provide vital health benefits. The flesh is rich in vitamins that stimulate immunity and lessen the risk of disease.
The soluble dietary fiber found in kiwis can aid to stimulate regular and healthy digestion Kiwis can supply other health benefits like:
Immunity
Red Kiwi contains abundant amounts of Vitamins, which stimulates the body's immune response. In fact, the kiwifruit holds roughly 230% of the daily recommended intake of Vitamin C. This bold fruit supplies a burst of immune-boosting nutrients in every bite.
Kiwis are also rich in antioxidants. Antioxidants assists to eliminate free radicals within the body and lessen oxidative stress. Ultimately, this may safeguard the body from inflammation and disease.
Heart Health
The Red kiwifruit possesses properties that lower blood pressure. By helping to maintain healthy blood pressure and providing a boost of Vitamin C, the kiwifruit can lessen the risk of stroke and heart diseases. Beyond this, kiwi also carries a high level of dietary fiber.
Fiber can lessen risk factors for heart disease by lowering LDL or bad cholesterol. A surplus of cholesterol can lead to atherosclerosis, which is a hardening of the arteries inside the heart.
Digestive Health
Both in its tough skin and flesh, the kiwifruit holds high amounts of dietary fiber. Fiber can assist to reduce constipation and a variety of other gastrointestinal issues and discomfort.
Treatment of Asthma
The abundance of Vitamin C in kiwis has been associated with the reduction of wheezing symptoms in some asthma patients. This is mostly true of children, who seem to benefit the most from the consumption of kiwis.
Ocular Health
When eaten up with other healthy vitamin and mineral-rich fruits and vegetables, the high levels of antioxidant vitamins and carotenoids found in the kiwifruit may help in preventing eye disease and promote overall ocular health.
You can choose thetop-gradedRed Kiwi Plant Manufacturers that sell organically grown red kiwi plants. These kiwi plants are grown very well in well-drained soil and sold at a maturity stage of 90%.